Our department's objective is to prevent physical deterioration and encourage our resident's health. After his arrival at the center, to determine his physical state the elder pass a comprehensive medical examination completed with a complementary therapist test. Taking account the resident's needs and preference, our team makes an initial evaluation and advice a physiotherapy care plan.
There are two types of actions: one aimed at maintaining physical fitness and prevention of pathologies motivated by physical inactivity and the other one treats specific diseases.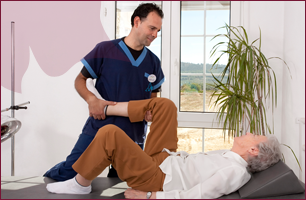 Physiotherapy Session In the bed
Our priority is to maintain physical fitness and prevent pathologies motivated by physical inactivity. According to their physical and cognitive status the resident can be attended by our team, in bed, in his room or in the physiotherapy room.
Specific neurological diseases are treated: Parkinson, sclerosis, Amyotrophic….
Traumas such as fractures, tendinitis, and sprains; rheumatic as osteoarthritis, arthritis…
Recent surgery for hip fractures, knee replacement or just physical inactivity.
Our experienced and qualified professionals together with a modern therapeutic arsenal will give to our residents a human and technical therapy 2, 3 or 5 days a week as needed.
To make sure our therapeutics plans fit the patient's good state of health, together with the other departments we will periodically check up the treatment and change it if necessary. We always seek the right therapeutic method for the patients' best physical condition to improve his welfare.
Responsible: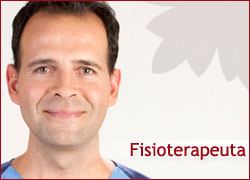 Jorge Gómez Benítez
Diploma in Physiotherapy, Bo bath Training, Perfetti and Osteopathy, with experience in the sector since 1998.
"We work from the philosophy that age is no impediment to the recovery of greater physical abilities"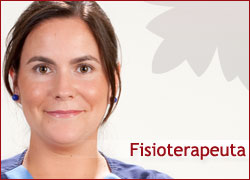 Elisabeth Zorrilla Rodríguez
Diploma in Physiotherapy
"With great enthusiasm and satisfaction we embrace the concept That May Improve an injury with a good attendance"