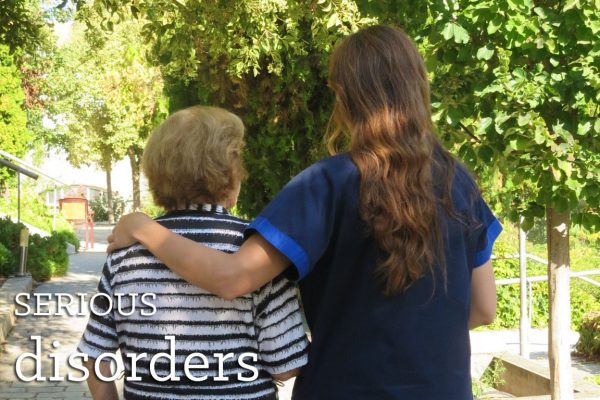 The severe conduct disorders are persistent patterns of behaviour which create difficulties to the daily coexistence in the family, at work and in social activities, as they do not conform to the rules of communal living.
They are usually caused by mental neurological diseases (e.g., dementia), or psychiatric (e.g., psychotic disorders, personality disorders, etc.)
In Entrealamos we are committed to keep people with behavioural disorders in a soothe environment under controlled freedom and personal attention.  This adaptation allows their coexistence to be integrated into the social environment within which the residents are safely and naturally located, allowing them to enjoy a good quality of life.
Specified attention
In Entrealamos personalized assistance to people with severe behavioural disorders is performed by a multidisciplinary team of professionals from medicine, nursing, clinical assistants, psychologists, occupational therapists, physiotherapy and social workers departments.

– Personal tutoring focused on the detection of peculiar mental illness symptoms
– Observation of the patient's behaviour in his daily activities
– We examine differential effects of cognitive impairment on each of the activities of daily living (ADL) and instrumental activities of daily living (IADL).
– Programs in groups: cognitive stimulation, crafts, physical mobility, psycho motor activity, leisure and free time.
The wanderer control system
The wanderer control system provides control and safety for those users that require special care and safe to wander in the center facilities. In situations of risk or escape, a bracelet shaped device adapted on the patient's wrist transmits a radiofrequency monitored signal. The wanderer control bracelet ensures peace of mind to the resident's family.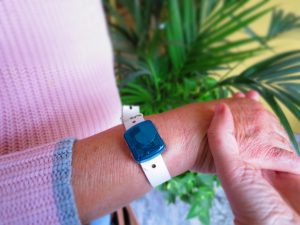 Smoking area
In EntreÁlamos' facilities we have a special room for smokers which includes a security control device.