EntreÁlamos is an authorised, private,-concerted center of integral care to elderly people
With twenty years experience our main objective is to offer a quality of life as high as possible, encourage autonomy, welfare, personal development and coexistence between our residents.
Thanks to the high qualification of its staff and the quality of its facilities, coupled with the prestige accumulated since its creation, EntreÁlamos attains an excellent reputation in our country.
We provide 24 hours comprehensive geriatric care to people with different degrees of physical or psychological dependence. The elderly, who's for personal, social or family circumstances, requires continued supervision in the carrying out of its activities, will encounter in EntreÁlamos the needed and desired security.
A multidisciplinary qualified team of skilled professional offers a wide range of care according to the dependency level of individual or group situation.
EntreÁlamos is located in a region of high environment value nearby the Cubillas' reservoir. On the 40.000 m2 plot raises the 15.000m2 gross square footage building surrounded by large gardens.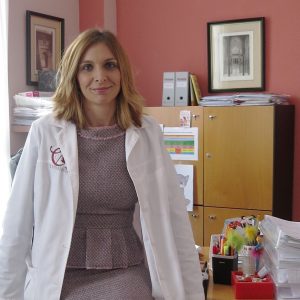 EntreÁlamos, the Residential Centre for your Elders
Our mission is to improve the daily life quality of our residents giving them individualized care with a holistic view of the person. We want that our residents feel at home, ensuring them independence and autonomy while encouraging their participation to the centre's activities
Ana Belén García Montosa – Director
Degree in Education from the UGR
Degree in Gerontology by Brussels VUB
Master of Management in Geriatric Centres
EntreÁlamos Residential Center opens its door in:
Camino de Caparacena (Near to Cubillas Reservoir)
18230, Atarfe (Granada)
Tel: 958 537 300 – 958 998 181
Fax: 958 495 009
Email: info@entrealamos.com
You are welcome to visit our services & facilities and if you have any question or want further information please contact us.